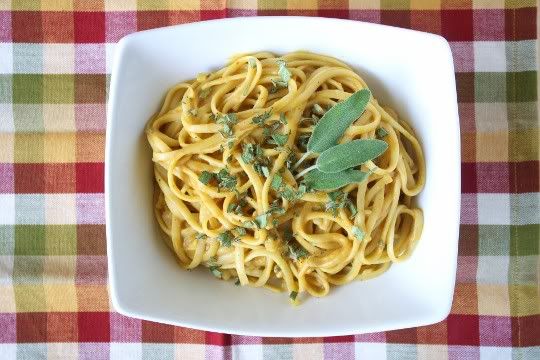 So if you're like me, you've got at least a couple leftover cans of pumpkin floating around from Thanksgiving. After picking my brain over what to do with them (cake? muffins? loaf?), I realized I wanted to do something different, something that
wasn't
a dessert. Lo and behold, the savory, hearty, pumpkin pasta recipe!
Unbelievably quick and easy, this dish is a perfect fall or winter meal. And not just because it's filling, but because it's got all the flavors of the season. Subtle but sweet pumpkin, strong woodsy sage, pungent garlic. The sauce is creamy and rich, and thickens considerably once it's added to the pasta where it nicely coats each noodle. The nutritional yeast adds savory undertones and a slight saltiness, but you will need to season the dish with salt (and freshly ground pepper!) to your liking.
I used almond milk for the creaminess, but you can probably substitute soy or rice, just make sure it's unsweetened. However, I would highly suggest almond for its texture, natural nuttiness, and ability to best blend with the other ingredients and flavors. To really increase the nutty flavors, try using a whole-wheat pasta, or even adding some toasted walnuts!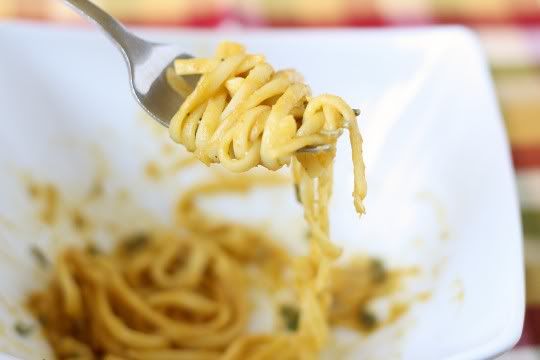 One more great thing about this dish is its nutritional content. Relatively low in calories (for a pasta dish) and fat, it's super high in fiber and protein. Perfect for post-holiday eating!

Pasta With Creamy Pumpkin Sauce
(adapted from , 11/14/07)


8 ounces linguine

1 medium shallot

3-4 garlic cloves

2 sprigs fresh sage (10-12 leaves)

1 tablespoon olive oil

3/4 cup canned pumpkin puree

3/4 cup vegetable broth

1/2 cup unsweetened almond milk

2 tablespoons nutritional yeast

Salt and freshly ground black pepper, to taste

Bring a large pot of salted water to a boil. Add pasta and cook until al dente (7 to 8 minutes); drain. Meanwhile, mince the shallot, garlic, and sage. Heat olive oil in the pasta pot over medium heat. Add the shallot and garlic; stir for 3 minutes until softened. Add the pumpkin puree, vegetable broth, almond milk, nutritional yeast, and half of the sage. Reduce heat to medium-low and cook for 10 minutes, stirring frequently, until the sauce is slightly thickened and reduced. Season with salt and pepper to taste. Add the pasta to the sauce, and mix well. Sprinkle each serving with the remaining sage. Serves 4.