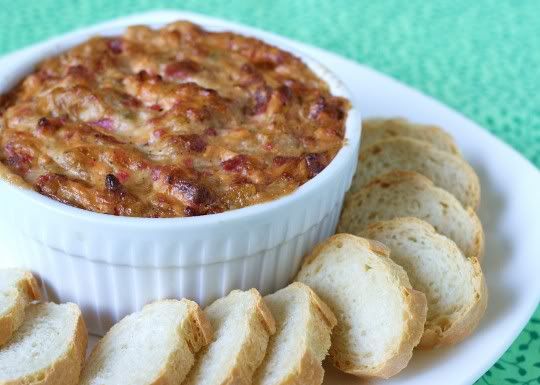 Who says vegans can't eat rich, decadent, unhealthy foods?! While I'm certainly not advocating a fatty diet, we can all indulge in moderation, right? If you're in the mood for some true comfort food by way of a super easy-to-make appetizer, you must make this immediately!
Seriously, this stuff is amazing! With my first bite, I almost couldn't believe it was vegan. This would be a perfect dish to bring around a bunch of meat-eaters (watch as eyes widen with their first tastes). It's certainly got all the nontraditional vegan flavors and textures: meaty, cheesy, ooey-gooey, sticky, thick, and extremely rich. The onions, which are nicely caramelized before adding them to the dip, provide a lot of sweetness, which is contrasted prefectly with the saltiness from the Daiya and tanginess from the Tofutti.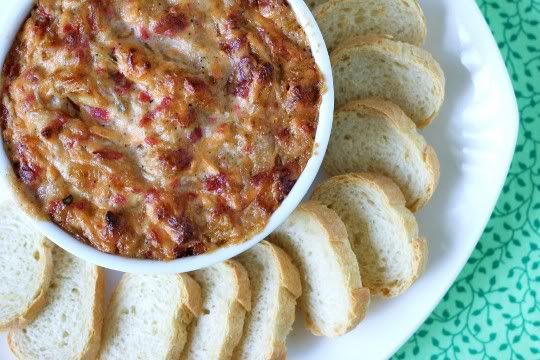 I used 1/3 cup of Bacos (yes, they're vegan) in the recipe, but I realized the faux bacon flavor might be a bit overwhelming for some. So cut it down to 1/4 cup or even just a few tablespoons if you want the sweet oniony flavor more pronounced.
This is best served fresh and hot from the oven, although leftovers keep and heat surprisingly well. Sliced sourdough baguettes are a must with this dip, but any kind of sturdy cracker or chip works too. And although you'll be on the path to diet destruction eating this, feel free to throw some veggies in too: carrot sticks, celery, endive, and anything else dippable.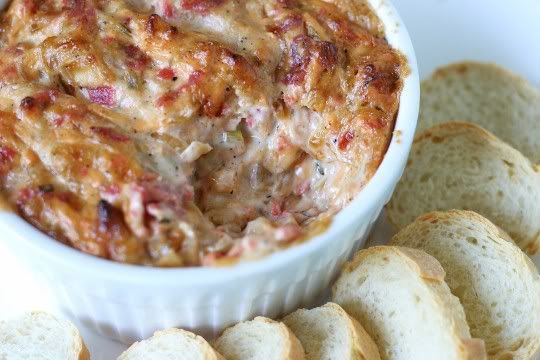 But what goes even better with a combination of onions, cheese, and bacon...? Are you thinking what I'm thinking...? Yes, BEER!!! A medium-bodied ale or crisp pilsner is an amazing complement to the strong, meaty flavors of this dish. In fact, bring this to your next game day and watch it get devoured before the second quarter!

Hot Caramelized Onion-Bacon Dip
(adapted from , October 2011)


2 teaspoons non-dairy butter (such as )

1 teaspoon vegetable oil

1 pound sweet onions, halved and thinly sliced

1/4 teaspoon sugar

1/4 teaspoon salt

1 tablespoon sherry vinegar

1/2 teaspoon minced fresh thyme

1/2 cup non-dairy sour cream (such as )

1/2 cup vegan mayonnaise (such as )

3 ounces shredded vegan cheddar cheese (such as )

1/4 - 1/3 cup soy bacon bits (such as )

1/4 teaspoon ground black pepper

Preheat oven to 400. Melt butter and oil in a large skillet over medium-high heat. Add onions, sugar, and salt. Cover and cook, stirring occasionally, 30 minutes or until onions turn deep golden brown. Remove from heat. Stir in vinegar and thyme, and set aside. In a large bowl, combine sour cream, mayonnaise, cheese, Bacos, and pepper. Stir in onions. Transfer to a 2-cup baking dish. Bake 20 minutes or until mixture bubbles and top is browned.
Nutritional data (per 1/4-cup serving): Calories 226, Fat 18g (Saturated 4g), Sodium 409mg, Carbs 12g, Fiber 1g, Protein 3g.