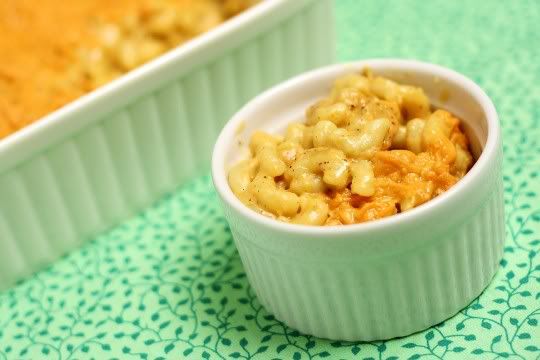 Hallelujah! I think I've found my go-to standard macaroni and cheese recipe (hey, we all need one). Not only is this absolutely delicious and may soon become a weeknight dinner staple, but it's surprisingly simple and easy, and uses ingredients that you probably already have at home.
Let me be clear: this recipe is nothing fancy. It's simple and quick, but ready for loads of adaptation or inspiration. Made as-is, it's rich, thick, sticky, buttery, and cheesy. Using Daiya Cheddar, the cheesiness is somewhere between a mild cheddar and American cheese flavor, but you could use any of their flavors or even a combination of them.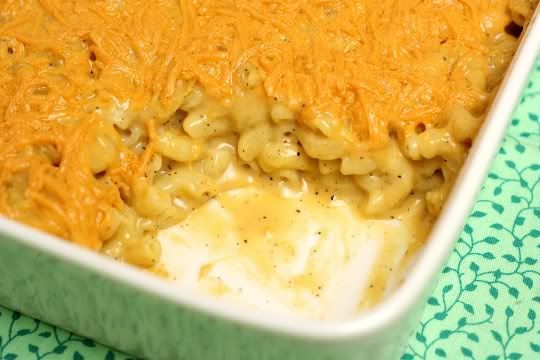 I used almond milk for its nutty, savory taste, as I figured that would blend in best with the other flavors. You can probably use soy or rice (or hemp may actually be quite tasty), just make sure you get the unsweetened kind. Along with standard salt and black pepper for seasoning (I don't know about you, but I love seeing big black pepper specks in my baked mac and cheese!), there is a bit of cayenne which does heat things up nicely. Omit this or add just a pinch if you'd like a milder version. You can also make this stovetop without baking it for a creamier, saucier mac and cheese (see directions below).
But what's best about this mac and cheese (well, aside from its overall amazingness) is its possibilites! Sometimes, all you want is plain ol' mac and cheese, but what about when you want more? Imagine mixing in broccoli, peas, pickled jalapenos, or faux bacon bits (!!!). Try sprinkling the top with seasoned bread crumbs before baking (yum), or even crushed potato chips!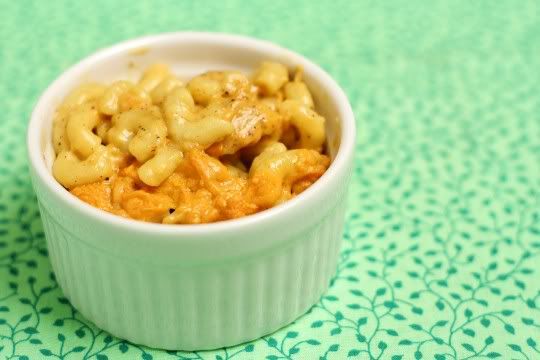 I can definitely see this going on my next holiday table, and it would be great alongside anything with BBQ sauce (Gardein, anyone?). Leftovers keep well and reheat nicely, although you may not have much left!

Classic Baked Macaroni and Cheese
(adapted from , February 2007)


8 ounces elbow macaroni

2 tablespoons nondairy butter (such as )

2 tablespoons flour

2 cups unsweetened almond milk

1/2 teaspoon salt

1/2 teaspoon black pepper

1/4 teaspoon cayenne pepper (optional)

2 cups nondairy shredded cheddar cheese, divided (such as )

Preheat oven to 400. Heat a large pot of boiling water, and cook pasta until al dente. Drain. In the same pot, melt butter over medium-low heat. Add flour, and whisk constantly until smooth, about 2 minutes. Gradually add almond milk, and whisk constantly, about 5 minutes or until slightly thickened. Stir in salt, black pepper, cayenne pepper (if using), 1 cup shredded cheese, and cooked pasta. Spoon pasta mixture into a lightly greased 8x8-inch baking dish; top with remaining 1 cup cheese. Bake for 20 minutes, or until bubbly around the edges. Let stand 10 minutes before serving. Serves 6.
For One-Pot Macaroni and Cheese: Prepare recipe as directed, but stir 2 cups grated cheese into thickened milk mixture until melted. Add cooked pasta, and serve immediately.
Nutritional data (per 1/6th serving): Calories 297, Fat 12g, Saturated Fat 4g, Sodium 561mg, Carbs 40g, Fiber 3g, Protein 6g.