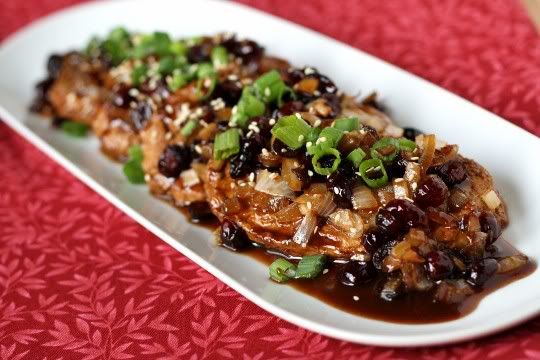 You know those fancy gourmet recipes that seem so complicated and unattainable for the everyday home cook? This looks like one of those, right? Well, you'll be pleasantly surprised to know that it's not. In fact, it's easier than you can even imagine. And isn't your mouth watering just looking at it?
There's four simple steps to this recipe: marinating the chicken ( is great here), caramelizing the pan, cooking the chicken, and cooking the conserve (which is sort of a chutney).
Caramelizing the pan is simple: stir together brown sugar and sesame oil until it's thick, dark, and smooth. It will clump up at first, but after a few minutes, the sugar will melt completely. Make sure you stir constantly to avoid burning. Add the marinated Gardein, and watch the caramel mixture bubble up and brown each piece. The reserved marinade, cranberries, and onions go in last, and everything cooks up nice and delicious.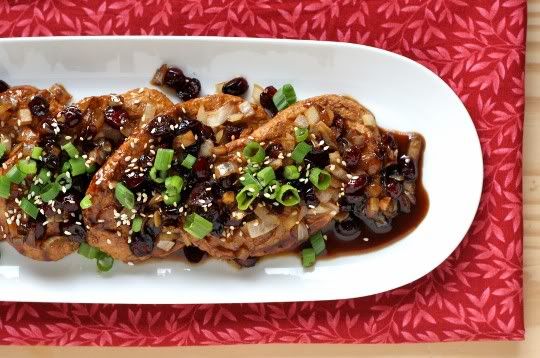 The finished dish is beautiful and delicious enough to serve at holiday tables or dinner parties. The Gardein is super moist and juicy with the amazing marinade, especially with the addition of the caramelizing. Sweet plump cranberries add to the juicy texture, and the onions provide just the right amount of pungence that somehow perfectly complements the tart orange flavor.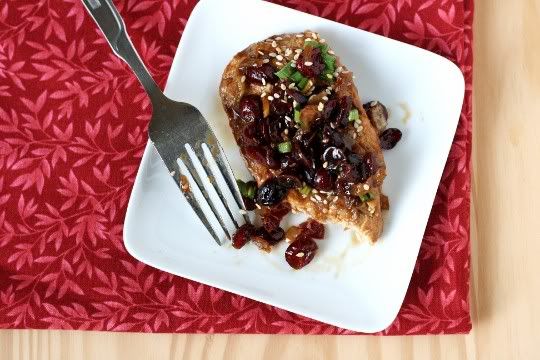 Each bite is sweet, tangy, and savory. The green onions add a bit of a bite, and the sesame seeds add a nice crunch and pizazz. Seriously, I was amazed at how something so simple could be so delicious. One piece might not be enough to sate your taste buds after your first bite, but don't worry, the recipe can be easily doubled!

Caramelized Chicken with Cranberry Conserve
(adapted from , Dec 1998)


3 tablespoons frozen orange juice concentrate, thawed

2 tablespoons balsamic vinegar

2 tablespoons dry sherry

1 garlic clove, minced

1 package vegan chicken cutlets (such as )

3 tablespoons brown sugar

1 tablespoon sesame oil

1/2 cup diced onion

1/2 cup dried cranberries

1 to 2 teaspoons toasted sesame seeds

1 to 2 green onions, minced

Combine orange juice concentrate, balsamic vinegar, sherry, and garlic in a heavy-duty zip-top plastic bag; add frozen chicken. Seal and leave at room temperature for 30 minutes. Remove chicken and reserve marinade. Cook brown sugar and sesame oil in a large nonstick skillet over medium-high heat, stirring constantly, about 4 minutes (brown sugar will clump up, then eventually melt and become thick and dark). Add chicken, and cook 3 to 4 minutes on each side. Add reserved marinade, onion, and cranberries; cook, stirring and turning chicken often for 10 minutes. Serve chicken with cranberry mixture. Sprinkle with sesame seeds and green onions.
Nutrition data (1 piece): Calories 188, Fat 4g, Sodium 226mg, Carbs 27g, Fiber 2g, Protein 10g.