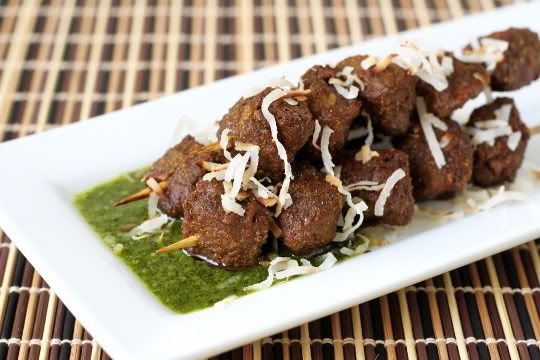 Get ready to create an authentic Indian-inspired meal at home that's full of flavor, great for parties, and ridiculously easy to make. Cubes of curried "beef" are skewered and broiled, and served with a delicious sweet and tangy cilantro-lime sauce. Sounds amazing, right?
I think a common misconception about Indian cuisine is that it's diffcult, but that couldn't be farther from the truth. Sure, some of the ingredients aren't very standard, and you may have to visit your local Asian or Indian market (or Whole Foods) to find some of them...but trust me, they will be worth the trip. Once you've got your exotic ingredients, most of what's involved is just marinating or mixing, followed by the cooking method.
Take these kabobs for example. Simply mix together the super flavorful curry spice blend (garam masala is a must!) with some oil, toss the Gardein in it, and thread 5 to 6 pieces on each wooden skewer (presoaked in water to prevent burning). I broiled mine, but I bet these would be amazing on a grill. They're simple, quick, and ready to eat in under 10 minutes.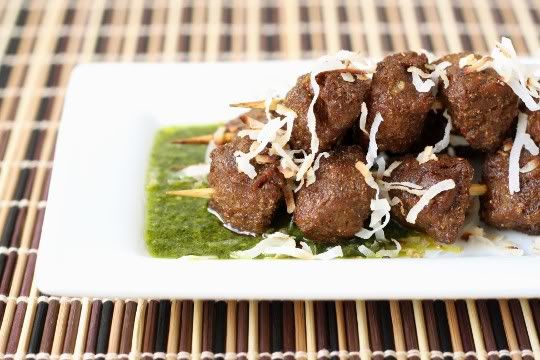 As for the amazing sauce, just throw all the ingredients into a food processor, and blend away until everything is smooth. It's very similar to the green sauce you'll find in Indian restaurants, especially with samosas. It's very cilantro-heavy, fragrant, citrusy, tangy, sweet, light, and herbal. In fact, you may want to double the sauce amount because it's just that good.
These kabobs are addictive, and one skewer's worth definitely won't be enough! The crunchy sweet toasted coconut on top just adds to the exotic flair, so make sure you include it.

Curried Beef Kabobs with Jade Sauce
(adapted from , July 2010)


10 wooden skewers

1/2 cup sweetened flaked coconut, toasted

2 tablespoons canola oil

1 1/4 teaspoons garam masala

1 teaspoon garlic powder

1/4 teaspoon salt

3/4 teaspoon curry powder

1/2 teaspoon black pepper

1/4 teaspoon ground cumin

2 packages , thawed

Jade Sauce (recipe below)

Soak wooden skewers in water 30 minutes. In a small skillet over low heat, add flaked coconut and stir constantly until lightly browned, about 5 minutes. Set aside. Preheat broiler. Whisk oil and spices in a large bowl until blended. Add Gardein, and toss to coat. Thread 5 to 6 pieces onto each skewer. Place skewers on a foil-lined baking pan sprayed with cooking spray, and broil 3 minutes on each side until edges get crispy. Serve with Jade Sauce and sprinkle toasted coconut on top.
1/2 cup chopped fresh cilantro

1/4 cup chopped fresh mint

2 tablespoons chopped green onions

1/4 cup olive oil

1 teaspoon grated lime rind

1 tablespoon lime juice

2 teaspoons seeded and minced jalapeño

2 teaspoons agave nectar

1 teaspoon minced garlic

1/4 teaspoon salt

Add all ingredients to a food processor, and puree until smooth, stopping to scrape down sides as needed.
Nutritonal data (2 skewers with sauce): Calories 349, Fat 24g, Saturated Fat 5g, Sodium 656mg, Carbs 16g, Fiber 4g, Protein 18g.