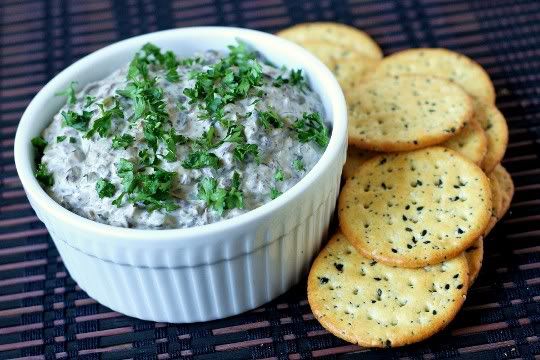 If you love the earthy, meaty, rich flavor of mushrooms, you must try this recipe. I'll be honest: only recently have I come around to embrace the mushroom. For years, I couldn't stand the taste of them. But then something clicked, and I couldn't get enough (especially when they're cooked with alcohol, like here).
When I took my first bite of this, I wasn't sure what to expect. It's really a simple recipe: just mushrooms, green onions, and garlic cooked in sherry and mixed with cream cheese. I knew it would be mushroomy, but I was hoping not overwhelmingly so. But it is. It's packed with mushroom flavor, yet it's also pungent as well as a bit sweet from the sherry.
After a couple bites, I was convinced this wasn't going to be a great dish, because whoa, so much mushroom flavor! But a few minutes later, I realized I had eaten quite a few crackers full of it. It's really interesting, but something about the mushroom flavors, the creamy cheesiness, and the cracker (of your choice) reminded me of eating a slice of mushroom pizza. And THAT, I love.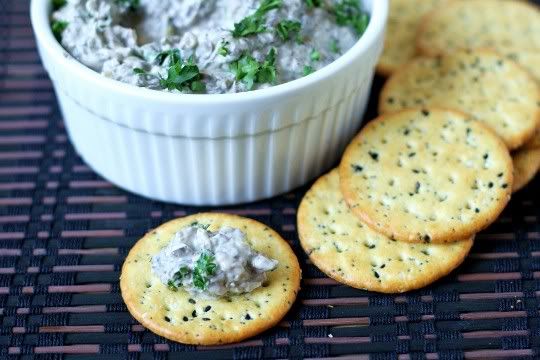 You will want to season this to taste with salt and pepper. It's already a tad salty from the cream cheese, but some freshly cracked black pepper will really give this a kick. Although I ate mine with a simple multi-grain cracker, I'd probably also try pita chips, toasted flatbread, or even mixed in pasta.

Mushroom Cream Cheese Pate
(adapted from )


3 tablespoons non-dairy butter (such as )

12 ounces mushrooms, sliced

4 green onions, sliced

2 garlic cloves, minced

1/4 cup dry sherry

6 ounces non-dairy chive-flavored cream cheese (such as )

1 teaspoon minced fresh thyme

Salt and pepper, to taste

Chopped parsley, for garnish

Melt the butter in a skillet over medium heat. Add the sliced mushrooms and sauté for 3 to 4 minutes until softened. Add the green onion, garlic, and sherry, and saute for 3 to 4 minutes. Remove from heat and allow to cool. In a food processor, add cream cheese, thyme, and drained mushroom mixture. Pulse gently until mixed thoroughly but not completely smooth. Season to taste with salt and pepper. Refrigerate for 2 hours. Sprinkle with chopped parsley and serve with crackers. Serves 8-10.
Nutrition data (per 2-ounce serving, about 1/4 cup): Calories 144, Fat 10g, Saturated Fat 4g, Sodium 117g, Carbs 3g, Fiber 1g, Protein 2g.