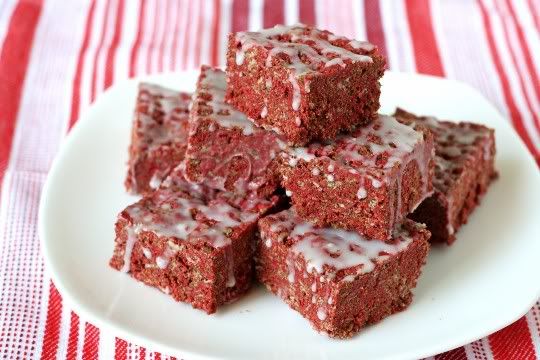 Valentine's Day is approaching, and you know what that means...red velvet everything! For my ode to the holiday, I chose to veganize something I've made before and absolutely loved: Red Velvet. Cocoa. Rice Krispie Treats. Yes, all three things together in one delicious and fun dessert.
If you've ever made rice kripsie treats, you know that although they are simple, they are not the EASIEST things to make. Unfortunately, the vegan version is no different.
Vegan marshmallows don't melt quite as easily or quickly as their nonvegan kin, so you may be standing over the pot waiting for what seems like forever. They also burn more easily, so make sure you constantly stir the mixture (this also helps speed up the melting process). Once you add the cake mix, the mixture will dry up a bit, so you really need to start some serious mixing here. Make sure it's well combined so you get a true red color, without having to add any additional coloring.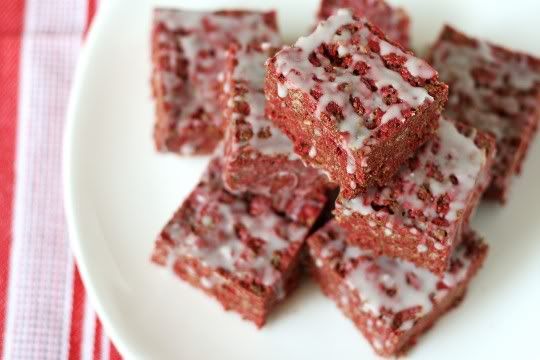 This mixture is poured over the waiting cereal, where the real elbow grease comes in. The stuff will be THICK and SUPER sticky, and it starts drying pretty quickly, so work fast! My usually durable wooden spoon wasn't enough, so I sprayed my hands with cooking spray and went to work. By this point, it was cool enough to handle, so I finished the second half of the mixing by hand. Not a big deal, and actually pretty efficient. I pressed the mixture into an 8x8-inch pan for some pretty thick pieces, but go larger if you want a thinner treat.
I drizzled a simple sugar glaze on top for some extra sweetness and decor, but to be honest, they are simply divine on their own. There's a mild red velvet flavor, some nice cocoa from the chocolately rice cereal, and a bit of saltiness from the Earth Balance. The treats are the perfect mix of thick chewiness and light crispiness.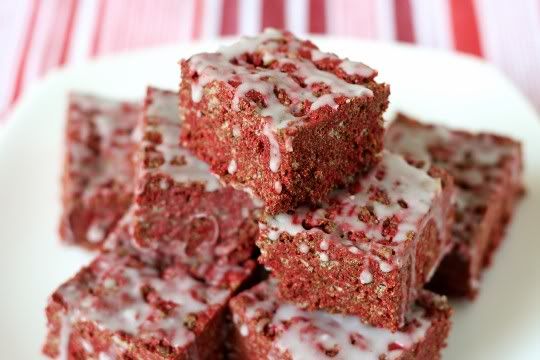 These are best served the day they are made, as the nonvegan marshmallows tend to dry out pretty quickly. The taste will still be great, but the texture will get a little crumbly the longer they sit. As good as these are, you're most likely not going to have that problem!

Red Velvet Krispie Treats
(adapted from )


6 cups chocolate rice cereal

3 tablespoons nondairy butter (such as )

1 bag vegan marshmallows (such as )

1 teaspoon vanilla extract

3/4 cup red velvet cake mix (such as )

1 1/4 cups powdered sugar

3 tablespoons unsweetened nondairy milk

Coat an 8x8-inch pan with cooking spray, and set aside. Pour cereal into a large bowl, and set aside. In a large saucepan, melt the butter over low heat. Add marshmallows and vanilla, stirring frequently until melted and smooth, about 10-15 minutes. Add cake mix, stirring until red color is evenly distributed. Immediately pour the marshmallow mixture over the cereal, and use a wooden spoon to stir until well combined. The mixture will get stiff quickly, so use well greased hands to finish mixing if necessary. Transfer cereal mixture to the prepared pan, pressing down until the top is level. Allow to cool. In a small bowl, stir together powdered sugar and milk until smooth. Drizzle sugar mixture over top of cereal mixture. Cut into 16 squares.