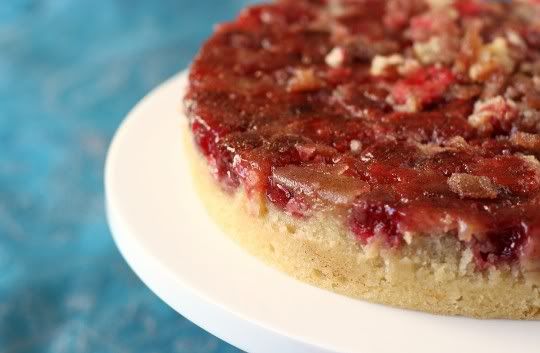 If you've visited any grocery store within the past couple weeks, you probably noticed some amazing sales on cranberries. I actually saw a deal for two bags for 99 cents, so I HAD to pick some up (they freeze quite well FYI). I've been adding cranberries to my morning smoothies for the past week, but I was getting a little bored and wanted to try something new. And lo and behold, I happened to have a Martha Stewart recipe for a cranberry upside-down cake...score!
Veganizing the recipe was pretty simple: all it took was simple substitutions for butter, milk, and one egg. I chose to use unsweetened applesauce for my egg subsitute, which I think made the cake extra dense and moist. If you're going more for fluffy, I'd try a standard egg replacer. However, I think the weight of the cranberries on top do call for a thicker cake.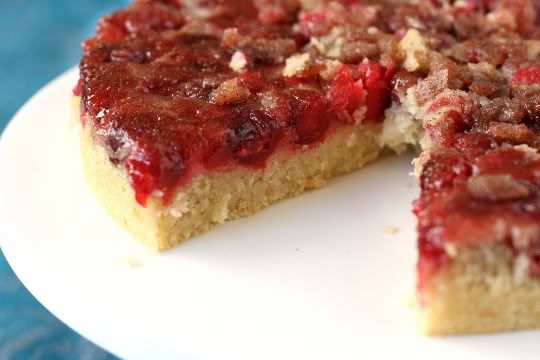 One thing that you must ABSOLUTELY do is
line your baking pan with parchment paper
. I can't stress this enough (damn you, Martha)!!! Unfortunately, I learned this the hard way: simply greasing it is not enough, and you'll end up with pieces of cranberry topping stuck to the pan. If you look closely at the above pic, you can see where I had to put some of it back together again LOL.
Ruined top or not, the cake is still delicious. It's buttery, moist, rich, and pillow soft (yet sturdy enough to hold up the topping). I like that the actual cake isn't overly sweet, as the cranberry topping includes lots of sugar. In fact, it may look like too much sugar that coats the pan, but it's the perfect amount. Your end result will be a beautiful, crystallized, ruby red-stained glass effect of sugar and cranberries, complete with crunchy pockets of caramelized sugar.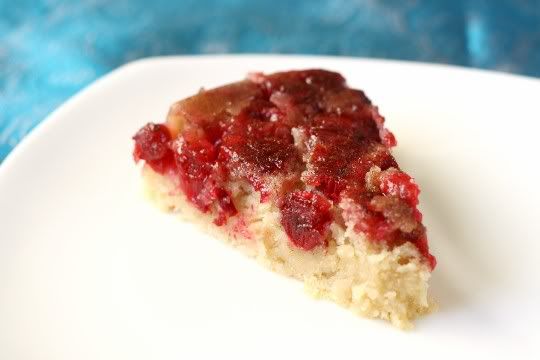 The addition of cinnamon (and probably also the addition of applesauce) gives this cake a slight apple pie-like flavor, and also a bit like a cranberry cobbler. As you can probably imagine, it's amazing served warm and makes a good breakfast or dessert dish (try it with some vanilla ice cream!). And the longer it sits, the cranberry juice seeps down, making this almost like a pudding cake. Whichever way you decide to enjoy it, I'm sure you will!

Cranberry Upside-Down Cake
(adapted from , December 2003)


6 tablespoons nondairy butter (such as )

1 cup sugar, divided

1/2 teaspoon ground cinnamon

1/4 teaspoon allspice

1 3/4 cups cranberries

1/4 cup unsweetened applesauce

1 teaspoon vanilla extract

1 1/4 cups all-purpose flour

1 1/2 teaspoons baking powder

1/4 teaspoon salt

1/2 cup unsweetened almond milk

Preheat oven to 350. Spray an 8-inch round cake pan with cooking spray, and line the bottom with parchment paper cut to fit. In a small bowl, whisk together 1/2 cup sugar with the cinnamon and allspice. Sprinkle mixture evenly over bottom of pan; arrange cranberries in a single layer on top. With an electric mixer, cream butter and remaining 1/2 cup sugar until light and fluffy. Add applesauce and vanilla; beat until well combined. In another bowl, whisk together flour, baking powder, and salt. With mixer on low speed, add flour mixture to butter mixture in three batches, alternating with the milk, until well combined. Spoon batter over cranberries in pan and smooth the top. Place pan on a baking sheet, and bake until a toothpick inserted in the center comes out clean and the top is lightly browned, 45-50 minutes. Let cool on a wire rack for 20 minutes. Run a knife around edge of cake and carefully invert onto a platter. Serves 8.
Nutritonal data (per 1/8th slice): Calories 260, Fat 9g (Saturated 2g), Sodium 250mg, Carbs 44g, Fiber 2g, Protein 2g.