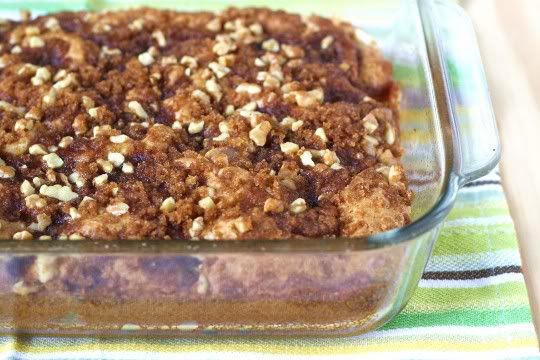 I don't make enough coffee cakes. But I need to, because it's recipes like this one that make me look forward to breakfast in the morning, even with a nice strong cup of coffee to go with it. You won't believe this version doesn't contain any eggs or dairy: its flavor and texture can easily fool anyone, and I bet they'll be going in for seconds.
Like most coffee cakes, this one is pretty easy to make, and it bakes up in no time. I was actually surprised at how moist and fluffy it turned out, as the batter is very thick and sticky. In fact, I was a little worried that the end product would be dry and barely risen.
But on the contrary, it's quite the opposite. The cake is amazing: pillow-soft, super moist, and perfectly baked. The apples add moisture to the batter, while still remaining tender and juicy. The cake itself is just the perfect amount of sweet, and the crunchy sugary topping is just a hair shy of giving you a sugar rush. There is a tad bit of tofu taste from the sour cream, but it's barely noticeable. Personally, I like that the cake isn't overly nutty, and there's just enough crunch in the topping to make it texturally complete.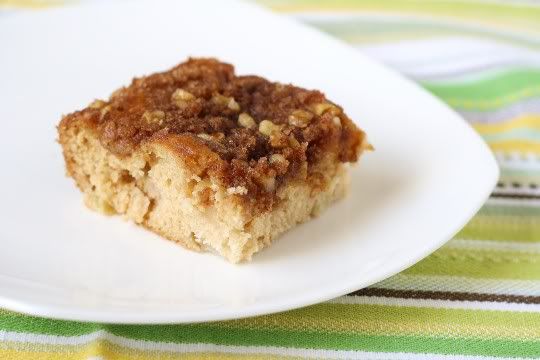 If you like raisins, they would be a great addition to this cake, so add some in with the apples. Or better yet, try dried cranberries for some tartness!

Apple Coffee Cake
(adapted from )


1/4 cup butter-flavored shortening (such as )

1/2 cup sugar

1/4 cup unsweetened applesauce

1/2 teaspoon vanilla extract

1 cup flour

1/2 teaspoon baking powder

1/2 teaspoon baking soda

1/4 teaspoon salt

1/2 cup non-dairy sour cream (such as )

1 cup chopped, peeled Granny Smith apples

6 tablespoons brown sugar, packed

1/2 teaspoon cinnamon

1 tablespoon non-dairy butter (such as )

1/4 cup chopped walnuts

In a large bowl, cream shortening and sugar until light and fluffy. Beat in applesauce and vanilla. Combine flour, baking powder, baking soda, and salt; add to the creamed mixture in thirds alternately with sour cream, mixing well after each addition. Stir in apples. Batter will be thick and sticky. Spread in a greased 8-inch square baking dish. For topping, combine brown sugar and cinnamon. Cut in butter until crumbly. Stir in nuts; sprinkle mixture over batter. Bake at 350 for 30-35 minutes, or until a toothpick inserted near the center comes out clean. Cool completely before cutting into squares. Serves 9.
Nutritonal data (per 1/9th square): Calories 255, Fat 11g, Saturated Fat 3g, Sodium 245mg, Carbs 38g, Fiber 1g, Protein 2g.