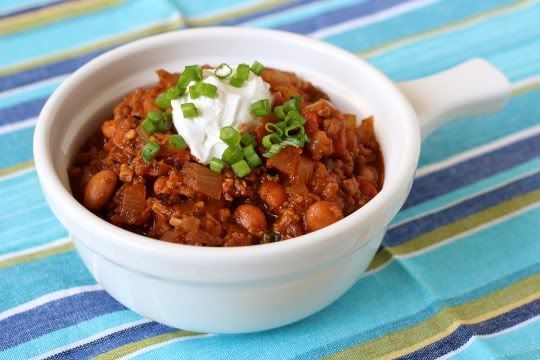 It's cold outside! So you know what that means...it's time to fix yourself a big pot of hot, spicy, hearty chili! And if you're looking for a good, solid recipe, look no further. I kid you not, this might be some of the best chili I've ever had...
You know what I like most about chili? It's a quick, easy, one-pot meal that's easily doubled (or tripled), and the leftovers are always superb. This chili is all of those things, and it's unique in so many ways. For starters, it's completely vegan...which isn't necessarily hard to do, but there are so many meaty flavors in here, you're going to be amazed.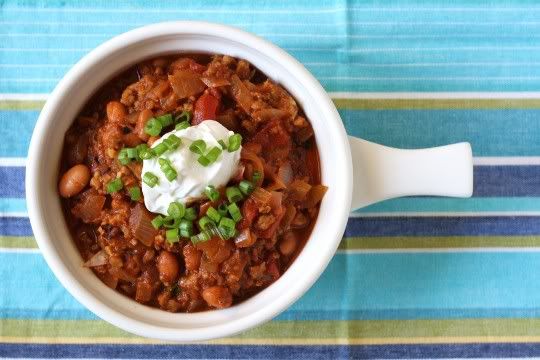 Faux ground beef gives the chili a super meaty texture, and tempeh bacon adds a salty, sweet flavor. You can use a regular can of tomatoes if you can't find the fire-roasted kind, but using the latter will increase the smoky, garlicky flavor. This is a spicy dish, so if you're not a fan of the heat, reduce the cayenne by half or omit it completely.
Perhaps my favorite ingredient of this chili, however, is the beer. Use any kind of dark variety; a brown or red ale would probably be best. It imparts a delicious bitter undertone that goes perfectly with the smoky flavors and warm spices.
Top your chili with red onions, green onions, corn chips, or whatever's your fancy. I added a dollop of to mine (first time trying it), and it was amazing. Cool and creamy, it perfectly mellowed out some of the heat of the chili, while adding a rich and velvety texture. I will admit, the Tofutti isn't great on it's own (it's very tofu-based), but you can't even taste the soy flavor once it's paired with the chili.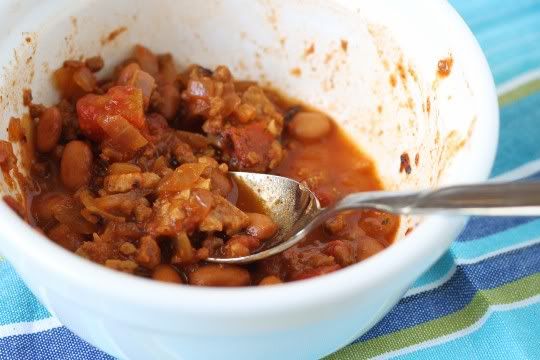 Smoky, spicy, bitter, tangy, salty, sweet...not to mention rich, hearty, and warming. This is what you want in a chili, right? Get on this ASAP, while it's still chilly outside!

Smoky Beef and Bacon Chili
(adapted from , January 2007)


1 tbsp oil

1 large onion, finely chopped

3 garlic cloves, minced

1 tablespoon chili powder

1 1/2 teaspoons ground cumin

1 1/2 teaspoons paprika

1/2 teaspoon cayenne pepper

1/2 teaspoon salt

14.5-ounce can crushed fire-roasted tomatoes

8-ounce can tomato sauce

1 cup dark beer

1 teaspoon vegan worcestershire sauce

4 slices tempeh bacon, finely chopped (such as )

12-ounce package ground round (such as )

15-ounce can pinto beans, drained and rinsed

In large pot, heat oil. Add onion, and cook 5 minutes. Add garlic, and cook 1 minute. Add chili powder, cumin, paprika, cayenne, and salt. Cook 1 minute, stirring well. Add tomatoes (and their juice), tomato sauce, beer, and worcestershire. Bring to boil, reduce heat and simmer 20 minutes. Meanwhile, cook chopped tempeh bacon in a nonstick pan until browned and crispy. After 20 minutes, add crumbled bacon, grounds, and beans to tomato mixture, and cook for an additional 10 minutes. Serves 6.
Nutritonal data (per 9-ounce serving): Calories 240, Fat 4g, Sodium 1107mg, Carbs 33g, Fiber 10g, Protein 18g.