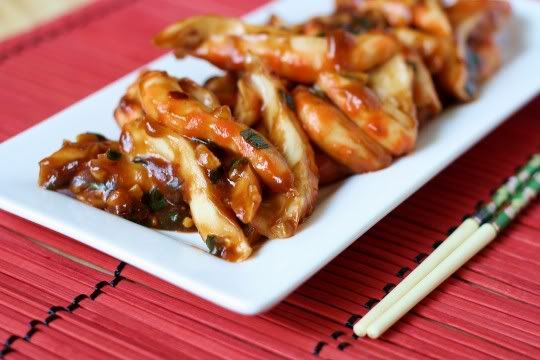 Feeling like Chinese for dinner, but can't trust takeout? Did you know that most Chinese restaurants cook even their vegetables in chicken broth? Well, I've got a super easy, ridiculously fast recipe for you that tastes damn near authentic. It's a simple concoction of ingredients (all of which you've probably got at home) that can be tossed with any protein of your choice. For this dish, I'm using one of the vegan faux-meat enigmas...shrimp!
Ahh, szechwan shrimp. Bold, spicy, sweet, tangy...everything you want in a Chinese dish. And the ingredient list is so simple: ketchup for the tanginess, soy sauce for the saltiness, agave nectar for the sweetness, and crushed red pepper for the heat. Additionally, ground ginger, garlic, and green onions provide the pungence necessary for this regional cuisine.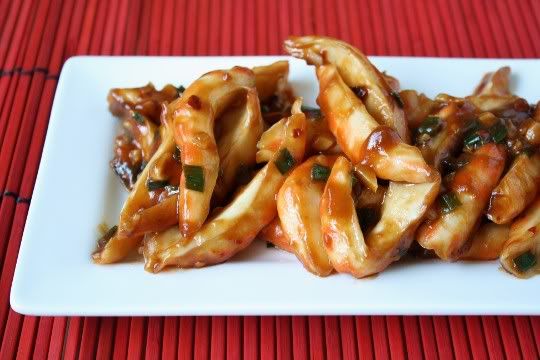 A little cornstarch thickens the sauce up quite nicely, and yields a thick, sticky, rich glaze for the shrimp. And speaking of the shrimp, although you can use any faux beef or chicken (or even tofu), I'd highly recommend checking out . While it doesn't necessarily taste exactly like the real thing, it's got a hint of oceany flavor, and if you can get past the strange jiggly texture, it's a great substitute for any shrimp dish (including this one).
Serve this over jasmine rice and sprinkle with sesame seeds for a truly Chinese-inspired experience. A hot cup of oolong tea on the side, and you may never want takeout again!

Szechwan Shrimp
(adapted from )


1/4 cup water

2 tablespoons ketchup

1 tablespoon soy sauce

2 teaspoons cornstarch

1 teaspoon agave nectar

1/2 teaspoon crushed red pepper

1/4 teaspoon ground ginger

1 tablespoon vegetable oil

1/4 cup sliced green onions

4 cloves garlic, minced

1 package vegan shrimp (such as )

In a bowl, stir together water, ketchup, soy sauce, cornstarch, agave nectar, crushed red pepper, and ground ginger. Set aside. Heat oil in a large nonstick skillet over medium-high heat. Stir in green onions and garlic; cook 30 seconds. Stir in shrimp, and stir to coat with oil. Stir in sauce. Cook and stir until sauce is bubbly and thickened and shrimp are well glazed. Serves 3.
Nutritonal data (per 4-ounce serving): Calories 122, Fat 5g, Sodium 431mg, Carbs 18g, Fiber 3g, Protein 2g.