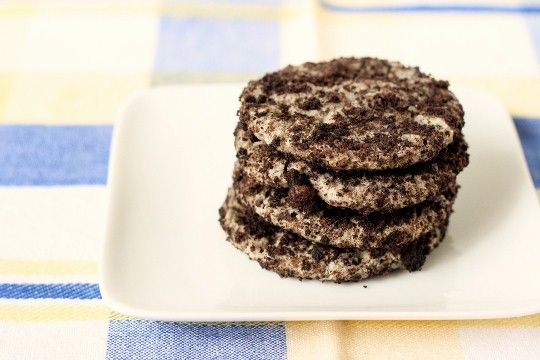 It's hard to believe that America's best-selling cookie is vegan. That's right: Oreos are vegan. Sure, they aren't anything close to being a nutritional powerhouse, but sometimes you need to indulge a little. In this recipe, Oreos are paired with another classic American dessert to take the cookie to another level.
These cookies are pretty easy to make, albeit a little messy (Oreo crumbs everywhere, hello). It consists of only six ingredients, half of which you probably already have at home, and half that you'll need to stop by Whole Foods to pick up. If you're concerned with the nutritional qualities of regular Oreos, you can easily substitute something like (although you won't have that true Oreo taste).
The key to these cookies is to just slightly underbake them. They should be puffy when you remove them from the oven. There shouldn't be any golden color on the edges, and the tops should be just set. Don't worry, they'll continue to "bake" on the hot baking sheet once removed from the oven, as most cookies do. They will firm up as they cool, but they'll remain slightly doughy in the middle with chewy edges.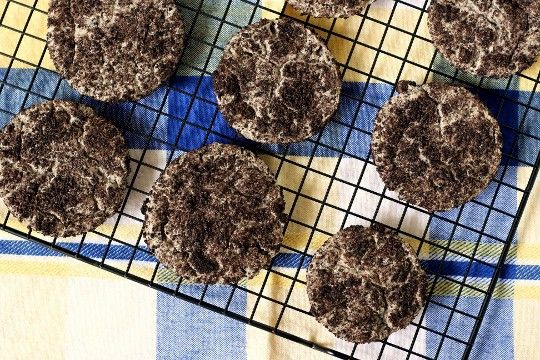 The cookies are buttery, rich, and sweet, and believe it or not, they really are very similar in taste to an Oreo cheesecake! This is why the underbaking is important: you want them to have that creamy rich center. The original recipe only consists of Oreo crumbs on the outside of the cookie, but I took it a step further and added Oreo crumbs to the dough for extra Oreo-ness. Eating these while still warm is absolute heaven, but they will keep for about 2-3 days in an airtight container. Anything after that still gives you a delicious cookie, but they do get stale quickly. So eat up!

Oreo Cheesecake Cookies
(adapted from )


16 Oreo cookies

1/2 cup non-dairy butter, softened (such as )

6 tablespoons non-dairy cream cheese (such as )

1 cup sugar

1 teaspoon vanilla extract

1 1/4 cup all-purpose flour

Preheat oven to 375. Spray two baking sheets with cooking spray. Set aside. In a food processor, add Oreo cookies and process into fine crumbs. Set aside. In a large bowl, cream the butter and cream cheese using a mixer until light and doubled in volume. Add sugar and vanilla, and mix until well combined. Add flour and 1 cup Oreo crumbs, and mix by hand until just incorporated. Refrigerate dough for about 30 minutes. In a shallow bowl, add remaining Oreo crumbs. For each cookie, take a golf ball-sized amount of dough, roll into a ball, and roll in Oreo crumbs until completely covered. Place cookie balls onto prepared baking sheets. Bake for 12 minutes, or until puffy and set. Cool on pan for 3 minutes before transferring to a wire rack to cool. Store in airtight container. Makes about 24 cookies.
Nutrition data (per cookie): Calories 137, Fat 6g, Saturated Fat 3g, Sodium 86mg, Carbs 19g, Protein 1g.