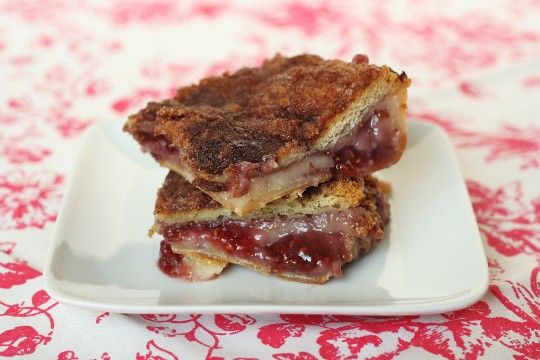 I have fond memories of eating cream cheese and jelly sandwiches as a child. My friends thought it was the strangest thing, but then, they probably never had the delight of tasting the combination. Salty and creamy mixed with sweet and fruity, who wouldn't love that? So when I came across this recipe, it reminded me so much of those sandwiches of yore...but in rich, decadent dessert form.
And rich and decadent is exactly what this recipe is, even veganized. The topping is crispy, sugary, crunchy, and buttery, with lots of warm cinnamon throughout. Once you bit through that, you're greeted with an ooey-gooey raspberry and cream cheese filling that oozes out in a salty-tangy mess. This isn't the neatest of foods, but it sure is worth the mess.
My old cream cheese and jelly sandwiches have re-imagined themselves in this tasty recipe, and I'd love to experiment with different flavors. Boysenberry, blueberry, or apricot would probably be delicious...or even apple butter! I'd consider these pastries more of a dessert, but it would also be great in the morning with a strong, bitter cup of coffee.

Cinnamon-Sugar Raspberry-Cream Cheese Squares
(adapted from )


8 ounces non-dairy cream cheese, softened (such as )

1/4 cup granulated sugar

1 tablespoon cornstarch

1 tablespoon lemon juice

1 teaspoon vanilla extract

1 can crescent rolls, 8-count (such as )

1/2 cup raspberry preserves

2 tablespoons non-dairy butter, melted (such as )

2 tablespoons granulated sugar

1 tablespoon brown sugar, packed

1 teaspoon cinnamon

Preheat oven to 350F. Spray an 8x8-inch baking pan with cooking spray; set aside. In a small bowl, combine cream cheese, 1/4 cup sugar, cornstarch, lemon juice, and vanilla. Stir until smooth and well combined; set aside. Open crescent roll dough and carefully unroll it onto a lightly floured countertop. Take half the dough (4 triangles or half the sheet) and place in bottom of pan, using your fingers to stretch the dough and make sure there are no large holes. Spread cream cheese mixture over dough. Spoon raspberry preserves over cream cheese in large dollops, then spread so cream cheese layer is evenly covered. Stretch remaining dough to fit in the pan, using your fingers to make sure there are no large holes. Pour melted butter over dough. In a small bowl, combine 2 tablespoons sugar, brown sugar, and cinnamon. Stir well. Sprinkle cinnamon-sugar mixture over top of buttered dough. Bake for 40 to 45 minutes, or until dough has puffed and browned and butter is bubbling. Cool on a wire rack for at least 1 hour. Refrigerate for at least 2 hours or overnight before slicing. To serve, heat slices for a few seconds in the microwave, serve chilled, or bring to room temperature. Serves 9.
Nutritional data (per 1/9th square): Calories 281, Fat 16g, Sodium 330mg, Carbs 33g, Protein 2g.