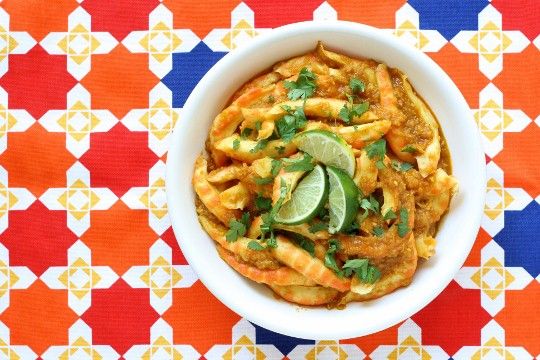 Many would probably argue that the best, richest, most flavorful Indian curries take a long time to cook. I don't disagree, but sometimes, you just need a quick-fix Indian meal. It's recipes like this will make anyone a believer in culinary simplicity. If you want an easy weeknight meal that's ready in no time, packed with curry flavor, and uses standard ingredients, look no further.
Onion, garlic, and ginger are sauteed in oil, then a spice mixture of curry and cumin are added in. Tomato paste and water complete the thick sauce, and vegan shrimp (or your faux meat of choice) is tossed in at the end, just until heated through. How simple is that!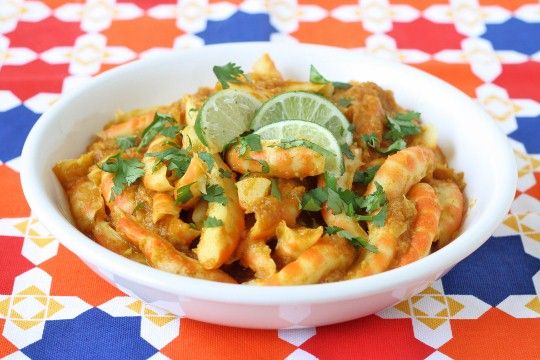 For such few ingredients, the dish does taste surprisingly authentic. The sauce is very pungent from the onions and ginger, but also slightly sweet. It's only mildly spicy, so add more cayenne to your liking. The vegan shrimp really soaked up the curry flavor, and topped off with some fresh cilantro and a few squirts of lime juice, this recipe is a sure winner. Serve over basmati rice, or with a side of garlic naan!

Indian Spiced Shrimp
(adapted from )


2 tablespoons vegetable oil

2 cloves garlic, minced

1-inch piece ginger, peeled and minced

1 medium onion, finely diced

2 teaspoons curry powder

1 teaspoon cumin powder

1/8 teaspoon cayenne

1/2 teaspoon salt

1 tablespoon tomato paste

3/4 cup water

2 packages vegan shrimp (such as )

Chopped cilantro and lime slices, for serving

Heat oil in a nonstick skillet over medium heat. Add garlic, ginger, and onion; stir frequently until just golden, about 5 minutes. Add curry powder, cumin, cayenne, and salt; cook, stirring, 1 minute. Stir in tomato paste; cook, stirring, 1 minute. Stir in water and bring to a simmer. Add shrimp and cook, covered, until shrimp are just cooked through, 2 to 3 minutes. Sprinkle with cilantro and serve. Serves 4.
Nutritional data (per 1/4 serving): Calories 200, Fat 11g, Saturated Fat 1g, Sodium 489mg, Carbs 24g, Fiber 5g, Protein 2g.