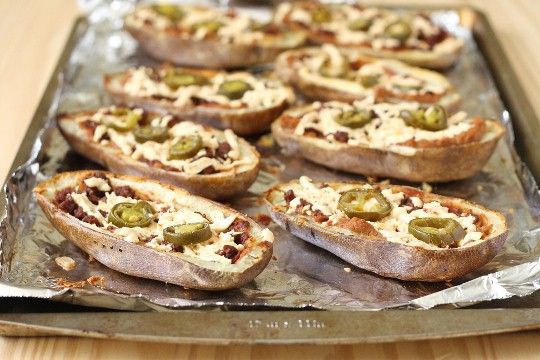 These are so droolworthy. I mean, you will literally be salivating for these after taking your first bite. Yes, they are that good. Potato skins are a great thing to veganize if you've got the right toppings, and these have just that. Some of the big names are featured: Daiya Pepperjack, Tofutti Sour Cream...but perhaps the biggest star is the new Tofurky Chorizo Style grounds. Finished off with pickled jalapenos, this makes the perfect meal for game day...or any day!
Although these toppings can be used in various ways (in a taco shell, in a tortilla, atop rice, etc.), there's something about a potato skin that just screams comfort food. And although the idea of these may seem rather unhealthy, they actually provide a superb amount of fiber and protein in each skin. Most of the potato flesh is scooped out, which prevents you from consuming an entire potato (and all those carbs!), and they're ready to be filled with nothing but flavorful protein-packed goodies.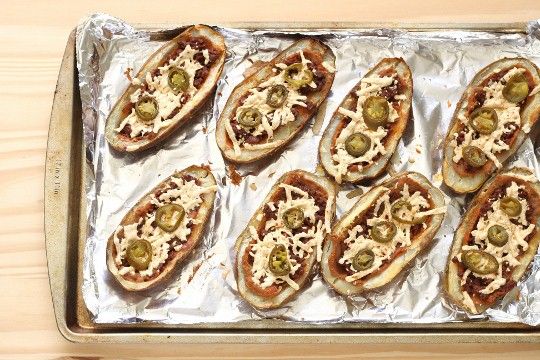 This was my first time using the Tofurky Chorizo, and it definitely won't be the last. It's chewy, hearty, spicy, tangy, and salty. It's drenched in a bright red oil that is very reminiscent of authentic Mexican food, but it can be a bit messy in the kitchen, so protect your clothes! Paired with melty, gooey, spicy Daiya, this is a match made in vegan food heaven. Pickled jalapenos add a delicious tangy, vinegary punch, and the sour cream cools everything down with it's mild, creamy texture.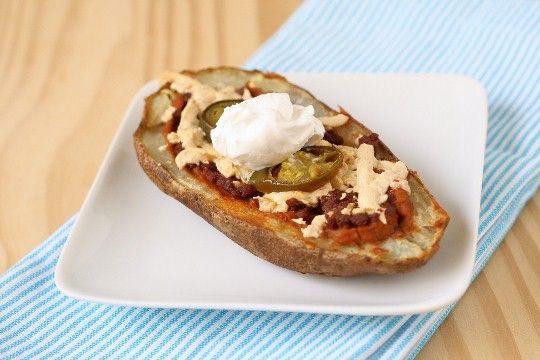 Making the skins is a bit time-consuming (pretty much everything leading up to filling them), but it's definitely worth the wait. Your total baking and cooling time could range anywhere from two to three hours, so plan accordingly. Better yet, you could make the skins themselves ahead of time, then fill and bake them before you're ready to eat. If you make them all at once, no worries: leftovers hold up great! Well, if there are any...

Tex-Mex Potato Skins
(adapted from )


4 large potatoes

Vegetable oil, for brushing

1 cup refried beans

1 cup vegan shredded cheese (such as )

1 cup vegan chorizo (such as )

Pickled jalapeno slices

Vegan sour cream (such as ), for serving

Preheat oven to 350. Pierce potatoes with fork. Bake directly on oven rack until tender, about 60 to 90 minutes. Let cool, then halve lengthwise and scoop out flesh, leaving a 1/4-inch shell (use flesh for mashed potatoes!). Increase oven to 450. Place skins on a baking sheet skin-side up, and lightly brush with vegetable oil. Bake until crisp, about 20 minutes. Flip skins over, and spread each half with 2 tablespoons refried beans. Top with 2 tablespoons chorizo, 2 tablespoons cheese, and jalapeno slices. Bake for an additional 5 minutes or until cheese is melted. Serve with sour cream.
Nutritional data (per piece): Calories 194, Fat 7g, Saturated Fat 2g, Sodium 474mg, Carbs 26g, Fiber 5g, Protein 7g.