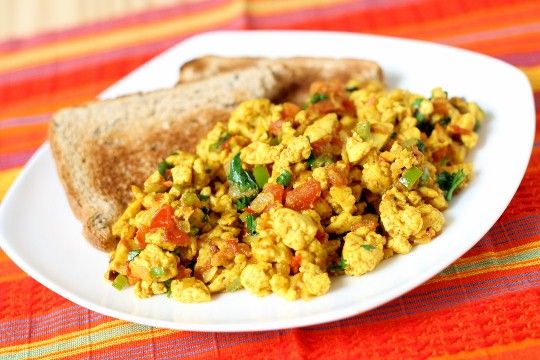 I've never been crazy about eating eggs. I can't eat them fried, poached, sunnyside up, whatever. The runny yolk absolutely disgusts me, and if I eat them scrambled, they HAVE to be well done. I'm talking, I want to see browned edges; no runniness or creaminess in sight.
Enter the tofu scramble, the vegan's best savory breakfast friend. Every time I make a tofu scramble, I think to myself, this is actually BETTER than eggs...and there's none of that weird overly egg taste. The texture so very closely resembles that of scrambled eggs, that I bet this photo can fool a lot of people. And the taste, well...the taste can be whatever you want it to be!
Of course, there's also nothing easier to make than a tofu scramble. I like to cook my tofu in a dry, nonstick pan before I actually start adding other ingredients (instead of adding everything at once and letting it cook). I think this allows the tofu to get extra firmed and crispy on the edges, so that soft texture isn't even a thing to think about. It takes about 10-15 minutes for the water to cook off and the tofu to get nicely browned.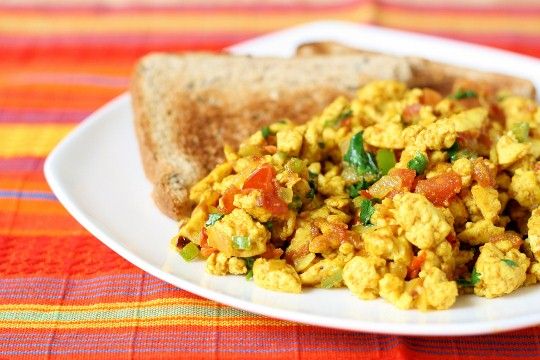 This version is from a traditional Indian dish,
akoori
. I love the savory, spice-packed flavors of Indian food, and this dish has all of that. A little heat from diced chilis, a little sweetness from tomatoes (which seem to take on a roasted quality when cooked in this fashion), and of course, cilantro to brighten everything up.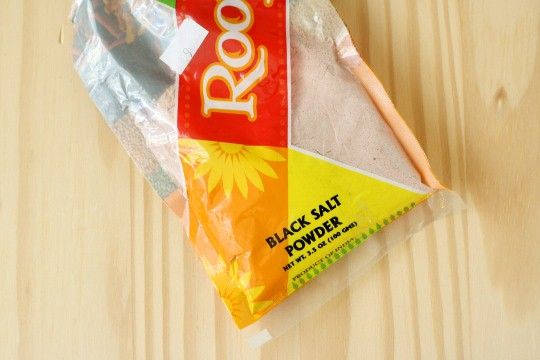 But perhaps it was the Indian black salt (aka, kala namak)--which is really pink--that kicked this dish up a notch. I've heard of black salt from around the vegan community, and how its sulfuric qualities lend an eggy taste to food. This stuff is potent, and in such a light powdery form, all you need is a little (or to taste). It actually does give a slight eggy flavor and smell, so this will definitely be a staple for future tofu scrambles. I found this small bag at my local Indian grocer for only 99 cents!
Make this a delicious and hearty breakfast with a side of buttered toast, and even include a little side of mango chutney for some sweetness.

Akoori (Indian Breakfast Scramble)
(adapted from )


12-ounce package extra-firm tofu, crumbled

2 tablespoons non-dairy butter (such as Earth Balance)

1 cup diced onion (about half a large onion)

1 large green Serrano chili, finely chopped

1 teaspoon ground cumin

1/4 teaspoon turmeric

1 tablespoon nutritional yeast

1 cup diced tomatoes (about 1 large tomato)

3 tablespoons cilantro, finely chopped

Indian black salt (kala namak), to taste

Cook tofu in nonstick skillet until browned. Set aside. In same pan, melt butter over medium-high heat. Saute onions until browned, about 5 minutes. Add chili, cumin, turmeric, and nutritional yeast, and stir for 1 minute until fragrant. Add tomatoes and stir for 1 minute. Add cooked tofu and stir until well combined and heated through, about 2 minutes. Remove from heat. Stir in cilantro. Season to taste with black salt. Serves 2-4.
Nutritional data (per 3-oz serving): Calories 156, Fat 10g, Saturated Fat 3g, Sodium 221mg, Carbs 7g, Fiber 2g, Protein 9g.