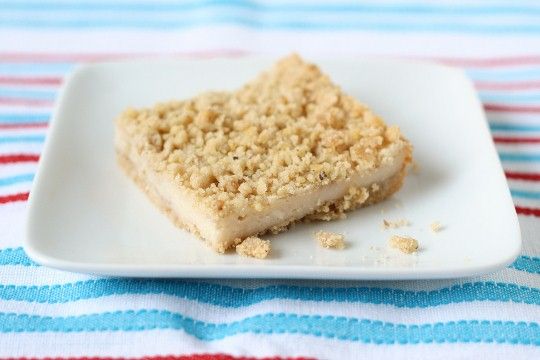 My first attempt at vegan cheesecake...a success! This isn't an over-the-top recipe, but it's simplicity does yield delicious, decadent results. Although vegan cream cheese probably can't fool most people into thinking it's the regular version, there is one secret ingredient that I think transforms it into being pretty indistinguishable.
Believe it or not, the simple addition of lemon juice seems to give a vegan cheesecake recipe that distinct tanginess of dairy cream cheese. I will say that upon your first bite of this dessert, you will taste a bit of the non-dairy flavor that makes you question whether or not you're eating the real thing, but after your second bite, you can't even tell the difference. In fact, I had some of my coworkers sample the goods, and they couldn't believe how good it tasted. I told them it was vegan, and the look on their faces was priceless.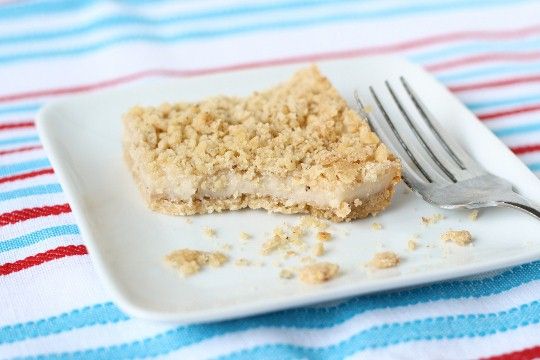 The addition of a rich, nutty shortbread crust also makes any vegan questioning go out the window, as well as a sugary crunchy topping. These decadent parts of the recipe pair well with the surprisingly light, creamy cheesecake filling. Since the filling is eggless, the texture is a tiny bit on the gummy side, but it comes pretty close to the real thing.

Nutty Cheesecake Shortbread Bars
(adapted from )


2 ounces chopped walnuts (about 1/2 cup)

1 cup all-purpose flour

3 tablespoons brown sugar

1/4 cup cold non-dairy butter (such as ), cut into small cubes

8 ounces non-dairy cream cheese (such as ), softened

1/3 cup sugar

2 teaspoons all-purpose flour

1 tablespoon cornstarch

2 tablespoons unsweetened non-dairy milk

1 tablespoon lemon juice

1/2 teaspoon vanilla extract

Preheat oven to 350. In a food processor, add walnuts and pulse until fine crumbs form. Add flour and brown sugar, and pulse until combined. Add cubed butter, and pulse until mixture resembles large crumbs. Reserve 2/3 cup of crumb mixture, and pour the remaining amount into a greased 8-inch dish. Press evenly into dish until flattened and smooth. Bake for 15 minutes until lightly browned. Let cool. In a large bowl, beat cream cheese, sugar, flour, and cornstarch until light and fluffy. Beat in milk, lemon juice, and vanilla until blended and smooth. Pour over cooled crust and spread evenly; sprinkle with reserved crumb mixture. Bake for 20-25 minutes or until filling is set. Cool on a wire rack for 1 hour. Refrigerate for at least 2 hours. Cut into bars. Refrigerate leftovers. Makes 9 bars.
Nutritional data (per 1/9th): Calories 219, Fat 12g, Saturated Fat 4g, Sodium 97mg, Carbs 25g, Fiber 1g, Protein 3g.