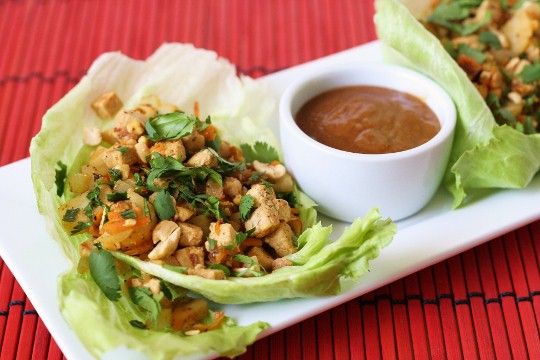 I absolutely love Thai food, and this is a perfect example of how easy it can be to make at home. This quick, restaurant-quality dish is absolutely amazing: perfectly seasoned, full of authentic Thai flavors, and totally addictive.
I was unaware of how spicy this would turn out being after the veganized adaptation, hence adding the word "spicy" to the recipe title. But oh my, it is spicy in such a good way. Sriracha is added to both the sauce and the chicken mixture, but the amount of pepper is what really kicks this up. If you're not a huge fan of spicy food, I would reduce the pepper by half, or omit it altogether. But there was something about the pepper amount that just worked so well with the other pungent ingredients.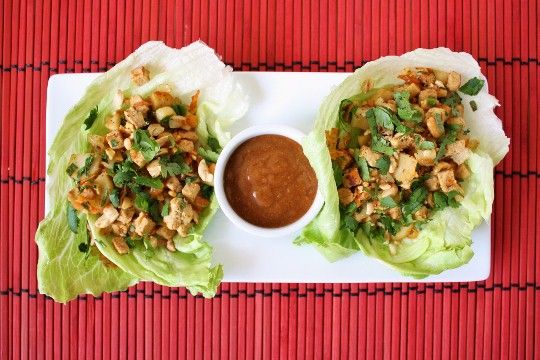 What also makes these wraps delicious is the peanut sauce. It's thick, sweet, and peanutty, like the perfect Thai sate sauce. It's the perfect amount for drizzling over each wrap and getting some delicious sweet flavor to go with the heat, but the sauce is easily doubled if you want additional dipping sauce.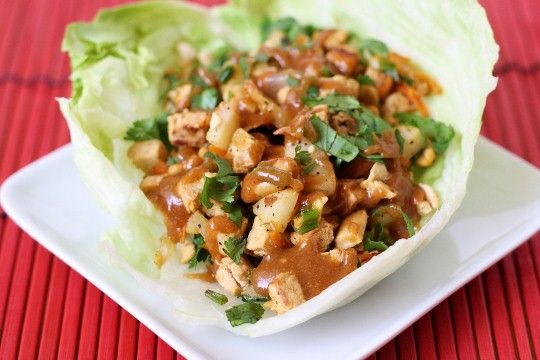 The textures of this dish are also nice and balanced. The chicken-veggie mixture is chewy and hearty, but the fresh crunch of the lettuce makes these light and fresh. You could probably serve the mixture itself with rice if you want to go that route, but there's just something about that fresh cold crunch of the lettuce that makes everything combine perfectly.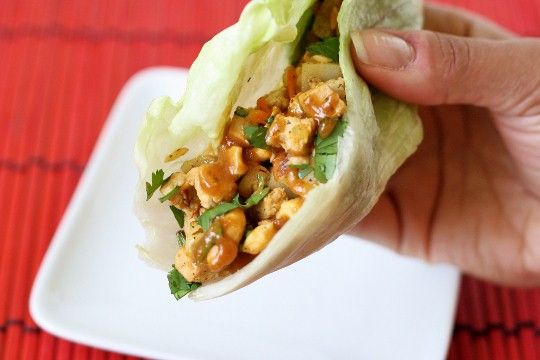 This is a simple dish with inexpensive ingredients (many of which you probably already have in your pantry) that I would definitely make time and time again whenever that ol' familiar Thai craving hits.

Spicy Thai Chicken Lettuce Wraps with Peanut Sauce
(adapted from )


1 tablespoon peanut butter

1 tablespoon agave nectar

1 1/2 teaspoons soy sauce

1/2 teaspoon sesame oil

1/4 teaspoon ground ginger

1/2 teaspoon sriracha


3 pieces , slightly thawed and diced

1 tablespoon olive oil

1/2 cup diced yellow onion

4 green onions, sliced, divided

1/3 cup carrots, grated

2 cloves garlic, minced

Half of an 8-ounce can sliced water chestnuts, drained and diced

1/4 cup peanuts, crushed

1/4 cup cilantro, chopped, divided

1/2 teaspoon pepper

1 teaspoon Sriracha sauce

1 teaspoon soy sauce

4 large iceberg lettuce leaves, to serve

In a small bowl, mix peanut butter, agave, soy sauce, sesame oil, ginger, and sriracha. Set aside. In a large nonstick skillet sprayed with cooking spray, add diced chicken and cook until browned, about 5 minutes. Remove to a bowl and set aside. In the same skillet, heat olive oil over medium heat. Add yellow onion, half the green onions, carrots, and garlic. Cook until vegetables are fragrant and soft, about 5 minutes. Add cooked chicken, water chestnuts, remaining green onions, peanuts, half the cilantro, pepper, sriracha, and soy sauce. Stir well, and cook for 1-2 minutes more. Divide the mixture evenly between lettuce cups and garnish with remaining cilantro. Drizzle with sauce before serving. Serves 4.
Nutritional data (per serving): Calories 231, Fat 12g, Saturated Fat 2g, Sodium 519mg, Carbs 18g, Fiber 5g, Protein 15g.