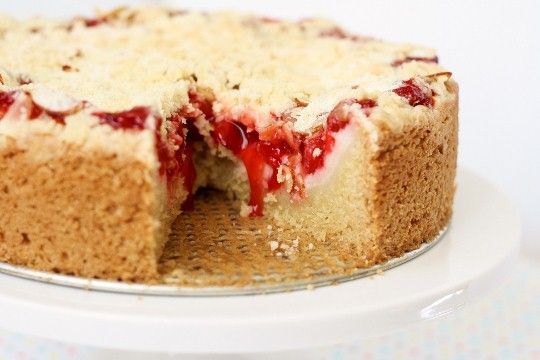 Coffee cake doesn't have to be just coffee cake. Try this behemoth of a brunch sweet, which tastes just like cherry cheesecake. Cherry pie filling atop a creamy cheesecake filling...all encased in a thick almond-flavored cake. And all vegan!
A word of warning: this cake is extremely decadent. What I mean is, it serves at least 16 people because each slice is pretty high in the fat and carbs categories. This is definitely an "in moderation" type of recipe, so it's best to serve for special occasion meals. Ooooh, how bout a spring brunch!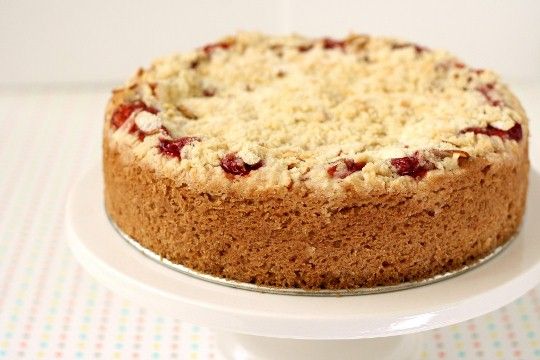 That being said, the cake is delicious. The almond extract in the cake really comes through and is a nice complement to the tart bursts of cherries. There are lots of textures going on too: a thick, hearty cake base; a creamy, smooth filling; juicy cherries; and crunchy, sugary almond-crumb topping. Surprisingly, it's not sickeningly sweet, but it is rich. Also, I thought the cake was a little overly Earth Balance-y tasting, so I'd probably experiment with doing a half butter, half shortening mixture in the future.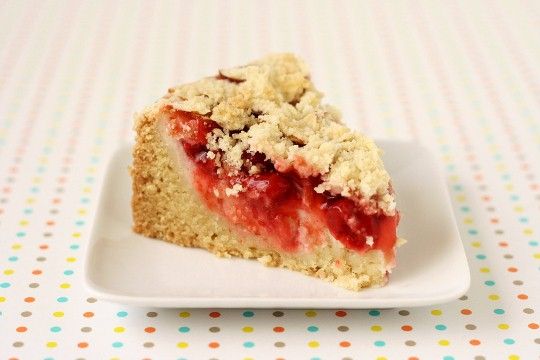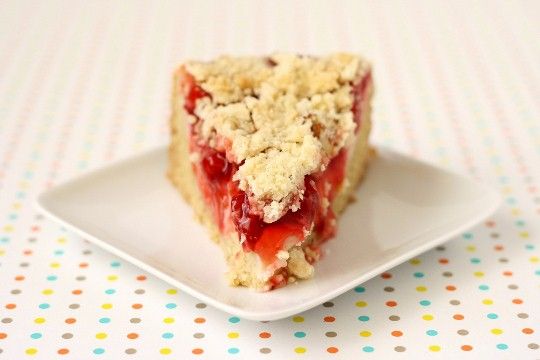 As you can probably imagine, the cake is super moist, so it's best stored in the refrigerator. I'd suggest serving immediately or up to a couple days for best flavor and texture.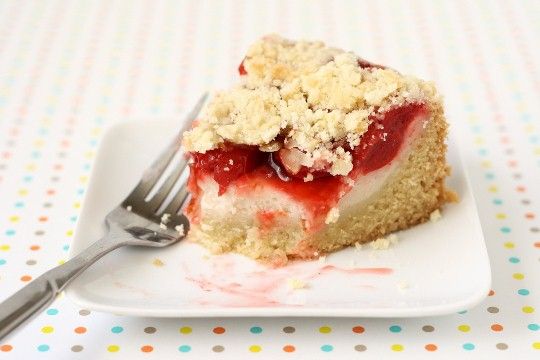 I'd love to experiment with different fruit toppings: blueberry, strawberry, peach...or maybe even chocolate!

Cherry Cream Cheese Coffee Cake
(adapted from )


2 1/4 cups all-purpose flour

3/4 cup sugar

3/4 cup cold non-dairy butter, cubed (such as ) (or try half shortening)

1/2 teaspoon baking powder

1/2 teaspoon baking soda

1/2 teaspoon salt

1/4 cup unsweetened non-dairy milk

3/4 cup non-dairy sour cream (such as )

1 teaspoon almond extract


8 ounces non-dairy cream cheese, softened (such as )

1/4 cup sugar

2 tablespoons all-purpose flour

1 tablespoon cornstarch

2 tablespoons unsweetened non-dairy milk

1 tablespoon lemon juice

1 can (21 ounces) cherry pie filling, slightly drained

1/2 cup slivered almonds

Preheat oven to 350F. For cake: In a large bowl, combine flour and sugar. Cut in butter until crumbly. Reserve 3/4 cup crumb mixture. Add baking powder, baking soda, and salt to remaining crumb mixture. Stir in milk, sour cream, and almond extract until blended. Batter will be thick and sticky. Spread onto the bottom and 1 inch up the sides of an ungreased 9-inch springform pan with removable bottom. For filling: In a large bowl, beat cream cheese and sugar for 1 minute. Add flour, cornstarch, milk, and lemon juice; beat just until combined. Spread over crust. Carefully top with pie filling. Sprinkle with almonds and reserved crumb mixture. Bake at 350° for 1 hour 30 minutes or until center is jiggly but firm. Cool on a wire rack until completely cooled. Carefully run a knife around edge of pan to loosen; remove sides of pan. Store in the refrigerator. Serves 16.
Nutritional data (per 1/16 slice): Calories 328, Fat 16g, Saturated Fat 6g, Sodium 349mg, Carbs 42g, Fiber 1g, Protein 3g.