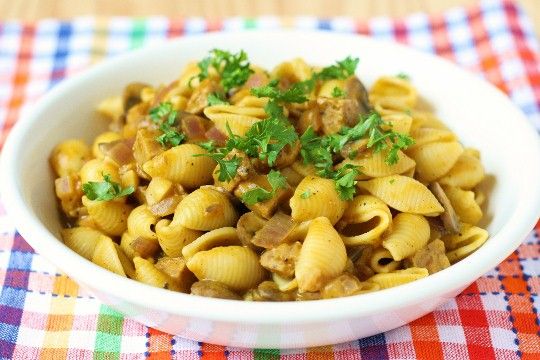 Hearty, warm, and woodsy, this pumpkiny pasta is the perfect kickoff to fall and winter meals. Chockful of delicious Italian goodies, this dish is easy and quick to make, with probably the most difficult part being the vegetable prep. And if you can chop onions, slice mushrooms, and mince garlic, you're already halfway there.
My favorite thing about this dish isn't the pumpkin: it's the wine. I just LOVE any dish that allows the wine flavor to come through in the finished product, and this one's no different. It seems to elevate all of the other flavors, including the sweet creamy pumpkin, the pungent garlic, the earthy mushrooms, and the aromatic meaty sausages.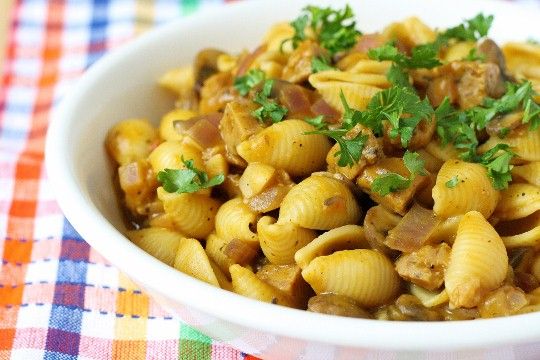 Oh yeah, did I mention there were sausages in here too? Field Roast's Italian links are perfect here. Packed with lots of fennel flavor, they're a great complement to the woodsy sage. They also adds some heat and real heartiness to the dish, and help up the fiber and protein content.
If you've been starting to amass canned pumpkin for the holidays, this would be a great and simple dish to use some of it up. Don't forget to serve with, what else, wine.

Pumpkin, Sausage, and Mushroom Pasta
(adapted from )


8 ounces uncooked pasta shells

1 teaspoon olive oil

1 cup chopped red onion

8 ounces sliced mushrooms

4 garlic cloves, minced

2 vegan Italian sausage links (such as ), diced

1 cup vegetable broth

1 cup canned pumpkin

1/2 cup white wine

1/2 teaspoon rubbed sage

1/4 teaspoon salt

1/4 teaspoon garlic powder

1/4 teaspoon pepper

Fresh parsley, chopped for serving

Cook pasta according to package directions. Meanwhile, in a large nonstick skillet, heat olive oil over medium heat. Add onion and mushrooms; cook 5 minutes, stirring occasionally until softened. Add garlic; cook 1 minute. Stir in sausage*, broth, pumpkin, wine, sage, salt, garlic powder, and pepper. Bring to a boil. Reduce heat; simmer, uncovered, for 5-6 minutes or until slightly thickened. Add drained pasta to the skillet and heat through. Sprinkle with parsley to serve. Serves 4.
*For a crispier sausage, saute in a little oil while the pasta is cooking, then set aside. Add to the pasta during the last minute, just enough to heat through.
Nutritional data (per 12-ounce serving): Calories 411, Fat 8g, Saturated Fat 1g, Sodium 621mg, Carbs 61g, Fiber 7g, Protein 23g.