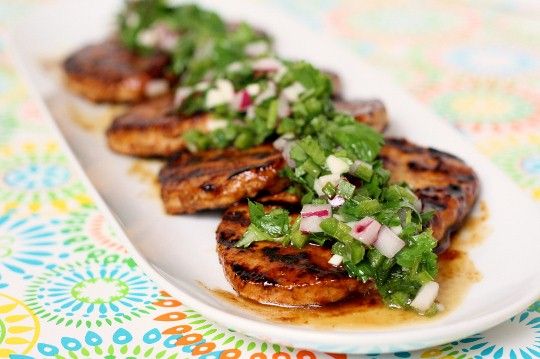 Want a quick and easy taste of the tropics? Try this simple, quick recipe that's light, fresh, and full of flavor. Oh, and there's more of my new best friend too. Hello, guava paste.
I had a bunch of leftover guava paste from
an earlier recipe
, where it was used in a sweet dish. But because the stuff is so delicious, I wanted to explore all of its possibilities. I scoured the web for a savory recipe and came across this one, which sounded amazing and especially tropical and fresh.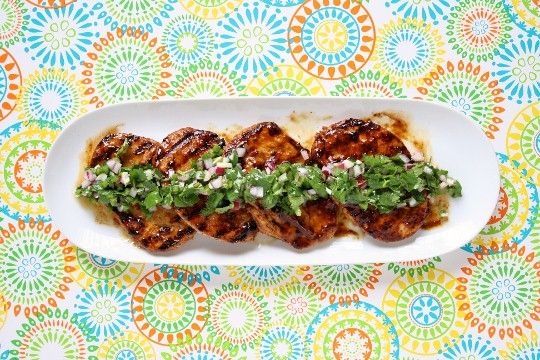 The sauce itself is delicious: sweet, tangy, and spicy, with the perfect amount of tropical flair. Grilling (or broiling) the meat and constantly basting it with the glaze gives each piece a charred, caramelized flavor, which is great for reminding you of a hot summer cookout (considering it was dark, cold, and rainy when I made this). The fresh, light salsa is the perfect addition to the meal, and provides more tangy vinegary flavor that goes great with the sweet glaze.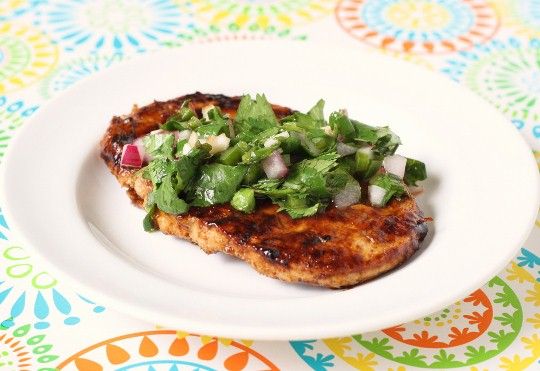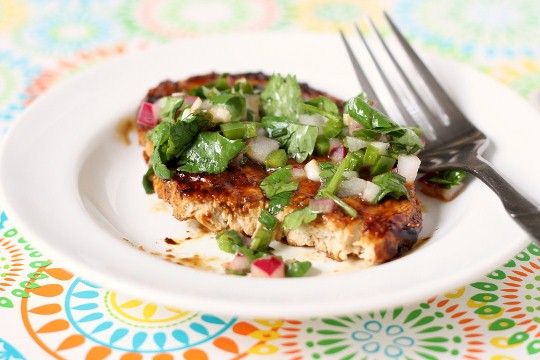 These would be great cut up and served in some corn tortillas (tacos!!), or over rice that's been cooked with some dried tropical fruit, or even cooked in a little pineapple juice. Grilled veggies tossed in some cilantro-lime butter would make this a perfect tropical meal.

Guava-Glazed Grilled Chicken with Cilantro-Jalapeño Salsa
(adapted from )


2 teaspoons vegetable oil

1 tablespoon minced onion

1 garlic clove, minced

4 ounces guava paste, chopped

1/4 cup water

1 1/2 teaspoons soy sauce

1 1/2 teaspoons ketchup

1/4 teaspoon cayenne pepper

1 package Gardein Chick'n


1/4 cup chopped cilantro

1 tablespoon vegetable oil

1 tablespoon white wine vinegar

2 tablespoons minced onion

1 tablespoon chopped chives

1 jalapeño, seeded and minced

1 garlic clove, minced

Salt and pepper, to taste

Heat oil in a small saucepan. Add onion and garlic and cook over moderate heat, stirring, until softened, about 1 minute. Reduce heat to low. Add guava paste and water and cook, stirring, until paste has dissolved, about 3 minutes. Stir in soy sauce, ketchup, and cayenne. Place chicken on a plate and brush all over with half of the guava glaze. Heat a grill pan over moderate heat. Grill each piece, turning and brushing with remaining glaze, until browned on all sides and cooked through, about 10 minutes. In a bowl, mix cilantro, oil, vinegar, onion, chives, jalapeño, and garlic. Season with salt and pepper. Serve chicken with salsa. Serves 4.
Nutritional data (per 1 piece with salsa): Calories 252, Fat 10g, Sat Fat 1g, Sodium 425mg, Carbs 27g, Fiber 3g, Protein 14g.