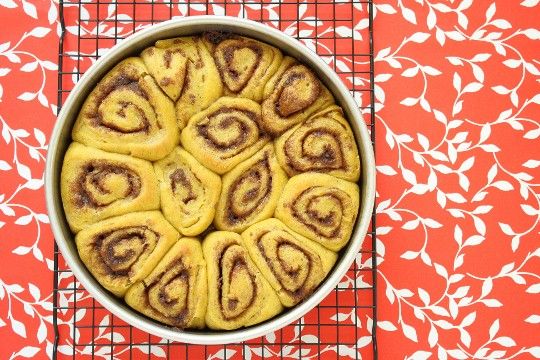 I think I've made yeast breads a total of two times in my life. Both times, I was scared out of my mind. My first yeast bread attempt--dinner rolls--came out surprisingly well. Then again, I was just shocked that they actually rose. So I figured 'tis the season to give it another go. I always thought cinnamon rolls would be difficult to make, but I surprised myself yet again. Oh, and pumpkin ones at that, for the season of course.
For my first time making cinnamon rolls, these were absolutely amazing (and yes, I am tooting my own horn). The dough was easy to come together, and the construction--albeit a bit tricky--was simple once I got the hang of it. After spreading the filling over the rolled out dough, the trick is to try and roll the dough slowly and tightly. Otherwise when you slice the log, the pieces may start to loosen and unroll. Minor problem.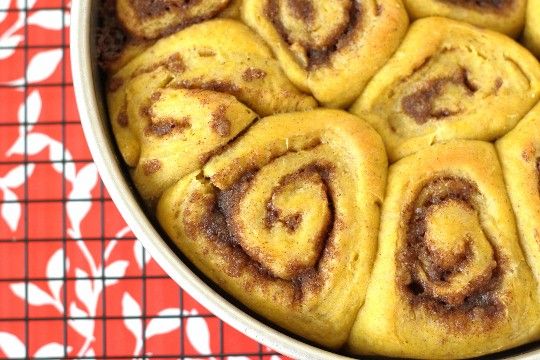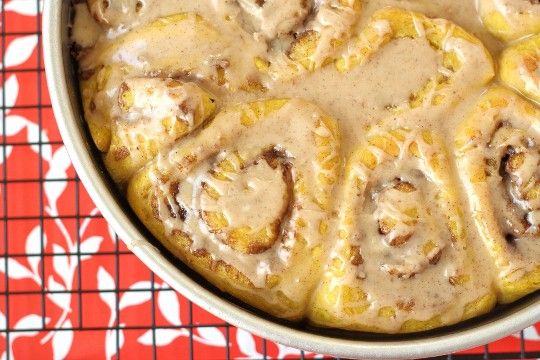 But here comes my yeast bread fear: rising. I've read about all kinds of methods on yeast proofing: "in a warm, draft-free place" (how vague is that), in a closed microwave (with or without a cup of hot water inside), on a sunny windowsill (not in my apartment), or inside a turned off oven.
I decided to try the microwave method this time, only to return after an hour to see the dough hadn't risen one bit. Horrors!!!!
I quickly scoured the web to find a solution and was absolutely aghast at how many people said to throw the dough out and start over, as the yeast may be expired. First of all, the yeast had an expiration date of 2014 and was purchased not three days prior. Secondly,
throw the dough away and start over
? Yeah right!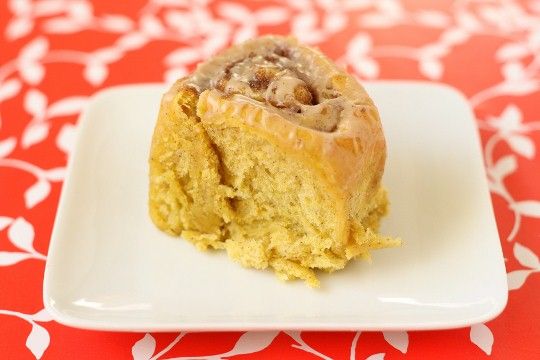 So I tested out the method I used in my dinner roll attempt, hoping science wouldn't fail me. I turned the oven on to 200F for about 10 minutes, then turned it off and placed the unrisen dough inside. Fast forward 45 or so minutes later..and guess what? Risen!!! Puffed up like the Pillsbury doughboy! I think I'll definitely make this my go-to proofing method from now on.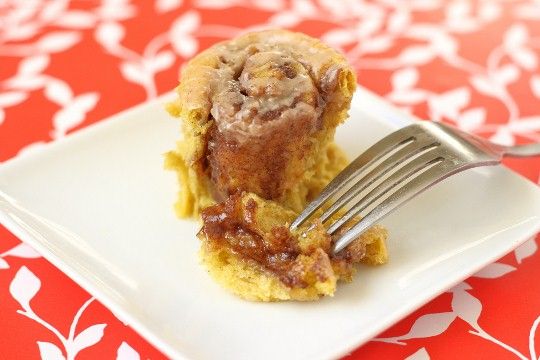 So, how did they actually turn out? Aside from the fact that the pumpkin flavor was surprisingly underwhelming, these babies were the bomb. The texture was perfect: chewy, moist, and tender. The "hearts" were ooey gooey, and also where I tasted the most pumpkin flavor. The rolls themselves weren't overly sweet, but the delicious yet simple frosting and filling were. Each bite was so packed with cinnamon and warm spice flavors, these scream fall or winter dessert...or breakfast! And what's better, these don't go overboard in the nutritional decadence arena. So eat up!

Glazed Pumpkin Cinnamon Rolls
(adapted from )


0.25-ounce package (2 1/4 teaspoons) dry active yeast

1/4 cup warm water

3 cups all-purpose flour, divided

1 tablespoon granulated sugar

1 teaspoon pumpkin pie spice (or 1/2 tsp cinnamon + 1/4 tsp ginger + 1/8 tsp nutmeg + 1/8 tsp cloves or allspice)

1 teaspoon salt

1/2 cup canned pumpkin

1/2 cup unsweetened non-dairy milk

1/4 cup non-dairy butter, melted (such as )

3 tablespoons granulated sugar

3 tablespoons brown sugar

2 tablespoons all-purpose flour

2 teaspoons ground cinnamon

3 tablespoons non-dairy butter (such as ), cold and cut into small pieces


3/4 cup powdered sugar

1 tablespoon water

1 teaspoon vanilla extract

1/4 teaspoon cinnamon

1/8 teaspoon nutmeg

Preheat your oven to 200F. Spray a 9-inch round baking dish with cooking spray. Set aside. In a small bowl or measuring cup, heat water to 110 to 115 degrees. Stir in yeast and let proof for 5 minutes until foamy and bubbling. In a large bowl, combine 2 cups flour, granulated sugar, spices, salt, pumpkin, milk, melted butter, and yeast mixture; beat with a mixer at medium speed until smooth. Add remaining cup of flour. Knead until smooth and elastic. Place dough in a large bowl coated with cooking spray, turn to coat, and cover bowl with plastic wrap. Turn the oven off, and place the bowl inside for 45 minutes to 1 hour, or until doubled in size. Remove from the oven, and preheat to 375F. Punch dough down and turn onto a floured surface. Roll into a 12x10-inch rectangle. In a small bowl, combine granulated sugar, brown sugar, flour, and cinnamon. Cut in butter with a pastry blender until crumbly. Sprinkle dough completely and evenly with sugar mixture. Starting with the long edge, roll up dough tightly, pressing firmly to eliminate air pockets; pinch seam and ends to seal. Cut roll into 1-inch slices. Place slices just touching in baking dish (they will spread during baking). Bake the rolls for 25 to 30 minutes or until golden brown. Cool for 15 minutes in pan on a wire rack. In a small bowl, combine powdered sugar, 1 tablespoon water, vanilla, cinnamon, and nutmeg, stirring until smooth. Drizzle glaze over buns. Serve warm. Makes 12 rolls.
Nutritional data (per roll): Calories 246, Fat 7g, Saturated Fat 3g, Sodium 271mg, Carbs 42g, Fiber 2g, Protein 4g.