I've always loved the combination of raspberries and chocolate. From the truffles at See's Candies, to my childhood memories of chocolate cake with raspberry filling, it's truly one of the great dessert pairings in the world. On a completely unrelated note, I somehow managed to accidentally buy a whole container of plain coconut yogurt, and I was frantic to use it up before the expiration date. I'm convinced it was fate that brought me this recipe only a week later.
Okay so, this might be my favorite new way of making ice cream (or, I guess, frozen yogurt). Requiring only a few ingredients and being ridiculously easy to make, you might agree with me after making this. The thickness of the yogurt makes the base almost custard-like, so there's no heating or thickening necessary. Using frozen raspberries speeds things up even more, as there's no waiting for the mixture to chill before churning it. Seriously, this stuff turned into soft serve consistency almost immediately, but I churned longer because I wanted more of an ice cream texture.
Surprisingly, this was nothing like eating frozen yogurt. It was super creamy and smooth (and surprisingly rich), I'm guessing thanks to the coconut yogurt (the flavor of which is nearly indetectable). Personally, I hate the taste and texture of soy yogurt, but you can probably use that instead. The yogurt had the perfect amount of sweetness, yet it was still tart and fresh with loads of raspberry flavor.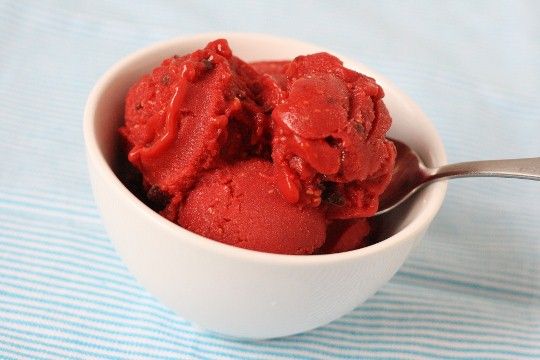 Oh, and let's not discount the fact that raspberries are PACKED with fiber, and one serving of this treat yields a whopping 6 grams of it. From frozen yogurt, we're talking about here. The chocolate chips (semisweet of course) broke up the sweetness and added some bitterness, bringing this recipe full circle in my love for raspberries and chocolate.

Raspberry Chocolate Chip Frozen Yogurt
(adapted from )


> 3 cups frozen raspberries
> 16-ounce container plain non-dairy yogurt (such as )
> 1/3 cup sugar
> 1 1/2 teaspoons vanilla extract
> 1/2 cup non-dairy chocolate chips (such as )





Place raspberries, yogurt, sugar, and vanilla in a food processor and process until smooth. Transfer the mixture to an ice cream maker and freeze according to manufacturer's directions. While the yogurt is freezing, chop chocolate chips into smaller pieces. Add chocolate chips during the last 5 minutes of freezing. Transfer to an airtight container and freeze until ready to serve. Serves 8.

Nutritional data (per 1/2 cup): Calories 178, Fat 7g, Sat Fat 5g, Sodium 3mg, Carbs 30g, Fiber 6g, Protein 2g.