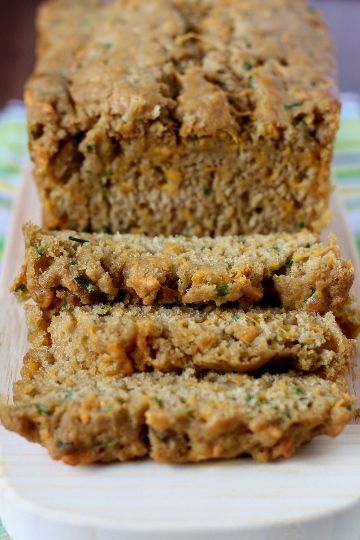 I'm very surprised that beer bread isn't more popular. It's super easy to make, practically does all of the bread "science" on its own, and can be made with any flavor combination desired. This particular recipe brings together a smoky, bitter oatmeal stout, pungent onions, and a warm cheesy savoriness.
I came across this recipe because I was trying to get rid of some beer. Sounds absurd, I know, but I'm not a fan of dark, bitter beers. I definitely couldn't bring myself to drink the rest of them, and they were taking up room in the fridge, so I figured cooking with them would be the best solution. Trader Joe's own Oatmeal Stout (vegan-friendly according to ) is a rich, smoky, bitter beer, which probably makes for a great experience if you're into that kind of thing, but what a great way to incorporate some of those aspects into a dish.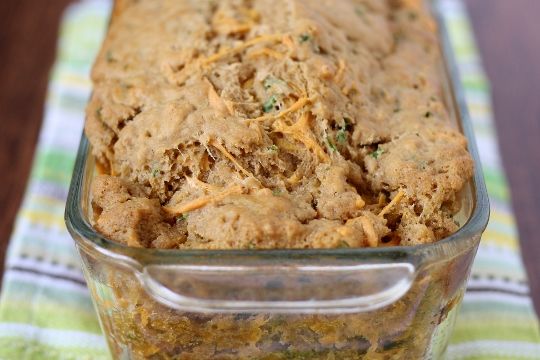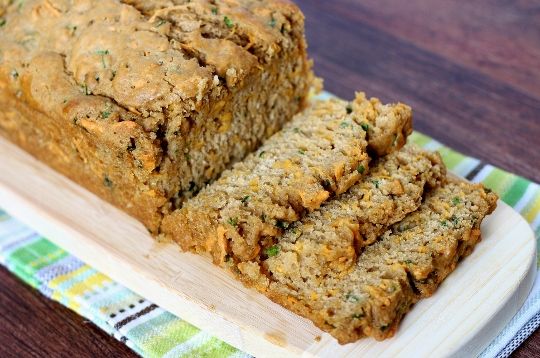 The beer gives the bread a slightly bitter and yeasty aroma, but it's a nice combination with the seemingly real cheddar (or at least, very cheesy) flavor from the Daiya. There's a pungent undertone from the onions that adds to the rich, buttery flavor of the bread. The texture isn't sandwich-making material, as it's quite moist and dense with a crispy, crunchy, buttery top. Lightly toasting a slice is great for any leftovers, and there's so much flavor that you don't even need to add butter. This would be an excellent addition to a soup or stew, or even served for breakfast.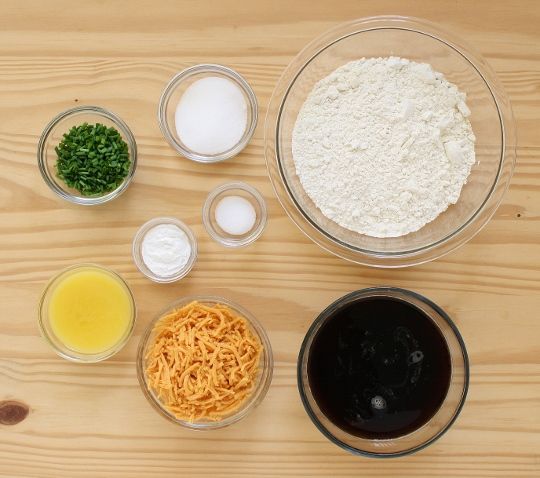 Cheddar-Chive Beer Bread
(adapted from )

2 3/4 cups all-purpose flour
3 tablespoons granulated sugar
1 tablespoon baking powder
1 teaspoon salt
12-ounce bottle stout beer (such as Trader Joe's Oatmeal Stout)
1 cup shredded vegan cheddar cheese (such as )
1/4 cup chopped chives
1/4 cup vegan butter, melted (such as )

Preheat oven to 375 F. Spray 8 1/2 x 4 1/2-inch loaf pan with cooking spray. In large bowl, whisk together flour, sugar, baking powder, and salt. Pour in beer and mix until evenly combined (batter will be wet and sticky). Fold in cheese and chives. Transfer batter to prepared pan. Pour melted butter evenly over top of batter. Bake 40-45 minutes. Cool in pan for 5 minutes. Turn out and serve warm, sliced.

Nutritional data (per 1/8th slice - which is pretty thick): Calories 290, Fat 9g, Saturated Fat 3g, Sodium 647mg, Carbs 43g, Fiber 2g, Protein 5g.